B2B Lead Generation & Appointment Setting Agency
meet more qualified prospects
Are you a B2B business owner and struggling to land qualified leads? 
Discovering Ideal Customers
Scaling existing strategies
Validating new audiences.
Structuring your outbound.
Check what Hanzo Ng, Malaysia's top Sales trainer, has to say about us.
Rokibul Hasan, our founder and CEO, has had the privilege of collaborating with Hanzo Ng on several projects. These projects primarily focused on developing effective sales strategies for B2B companies operating in Malaysia. Through their partnership, Rokibul and Hanzo were able to apply their extensive knowledge and expertise in sales to deliver exceptional results for their clients. Their collaboration has been instrumental in helping businesses achieve their sales targets and reach new heights of success.
Trusted by more that 60+ B2B Companies from 14+ countries
Within the first 7 days, Prospect Engine will help you to narrow down the audience, build the foundation for a LinkedIn sales funnel, create personalized cold messages, and train the sales team.
We are the B2B acquisition partner dedicated to booking online and offline appointments
LinkedIn Outreach + Cold Emailing
Service to fix

Appointments
Customized lead research for high-quality prospects

Personalized lead targeting for tailored outreach



Thorough lead validation for accurate and up-to-date leads
Comprehensive campaign management for streamlined outreach
Unlimited copy edits for effective messaging
Weekly reporting to track progress
Pipeline-focused analytics to optimize outreach strategy
Multi-channel outreach for maximum reach and impact
ROI-driven results for business success.
100% Done for you
300 to 500 Companies
1300 to 1800 Prospects

Invitation Sent:

65+/day * 20 days = 1300+ Invitations (Monthly)
Connected with a Minimum 25%+ = 325+
Total Messages: 6 (When connected & Over next 3 Months (3 messages in first 15 days and then 45 days gap then 3 more followup messages in next 15 days

Sending

Cold emails to 1500 to 2000

Prospects with 4 Follow-ups (

6000+

total Emails)

300+ In-mails

to

Open

Linkedin Profiles (Those who haven't accepted the invitation)
OUTREACH PROCESS: We always believe in following the SOP to bring results.
THREE: Manual Lead RESEARCH
ONE: Understanding the PROBLEM
TWO: Identifying IDEAL CUSTOMER PROFILE
FOUR: Writing & Sending MESSAGES
FIVE: Rigorous A / B Testing & Optimization
SIX: APPOINTMENTS with PROSPECTS

Decube is a data observability & data quality platform that helps companies prevent data quality incidents.
Connection Acceptance rate
Content Marketing
Inbound B2B Lead Generation
linkedin profile optimisation

Social Media Posts

Hashtags & Keyword

Research

Post

boosting

by sharing in different relevant groups

Static images

or

Video

based on post criteria

Unlimited

Copy

Edits

Target market analysis

Monthly content planning

Hashtag & engagement strategy

Boosting posts & Generating Comments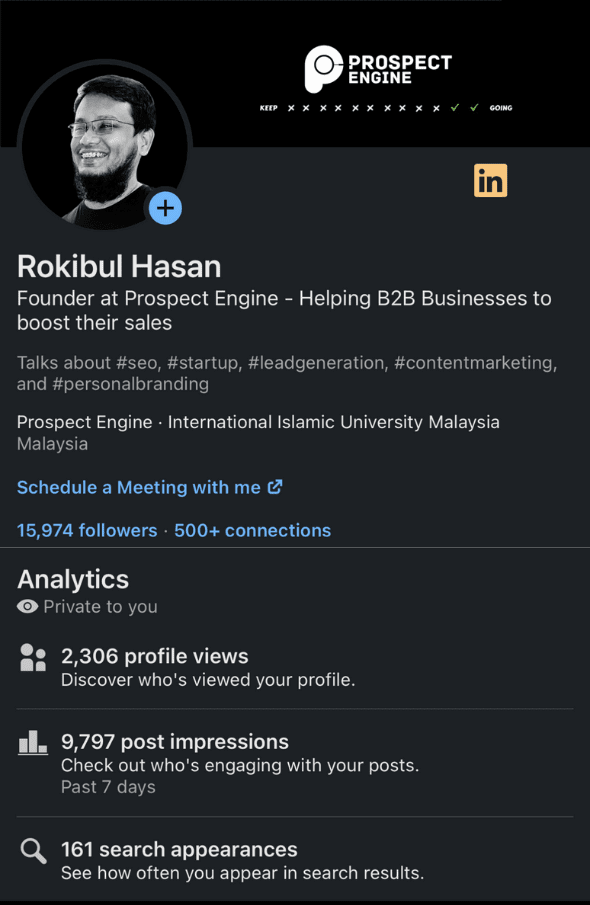 Page Optimization

Blog Posts (1k Words to 2k Words)
Web 2.0 Backlinks (500 Words)
link building & Interactions
monthly reporting

Blog articles that truly solves problems

The AI-powered image editing platform. 
Pages Optimization
Keyphrases optimization
Analysis & Opportunity Report
Keyword research & selection
Keyword mapping to target pages
Title Tags & Meta descriptions
Robots.txt optimization
XML sitemap creation & submission
Content, Linkbuilding, Consulting, or CRO Assets
Google Business Profile optimization (if needed)
Information architecture audit
Canonicalization analysis
Initial external link analysis and disavow
Initial visitor profile report
Google Data Studio Reporting Dashboard
Ongoing quarterly keyword ranking reporting
Ongoing monthly traffic, goal & CPL reporting
Ongoing user experience reporting
Ongoing quarterly competitor reports
Keyword rank checker access 
Ability to check location data accuracy
A/B Testing of SERP title & description
Notification of new reviews 
Internal linking restructuring & optimization
Analyze your leads on a monthly basis
Duplicate content analysis
Header Tags Optimized (Ex. H1s)
Setup of website sitemap
Image optimization
Custom 404 error page setup and optimization
Schema Implementation (JSON-LD)
Google Analytics setup & conversion tracking
Google Analytics traffic analysis
Website conversion analysis implementation
Website conversion analysis

Online Project Management Platform

Progressive monthly optimization
Here I daily share what I have learned in last 6 Years doing Cold Linkedin & Email outreach, Personal Branding & SEO.
Founder & CEO at Prospect Engine
Published Weekly
2,654 subscribers
Roki is a true talent. He's versatile in his skillset yet always learning and growing. He's delivered results across the board while working for me in various capacities all across the digital marketing and sales landscape. He's built a great team at acsell too and I can only highly recommend working with him!
Rokib and his team have been a pleasure to work with. Prospect Engine have just completed the first project for us and we are planning several more campaigns. Communication of the project status was continuos and so we felt comfortable from day one.
Thank you so much for your hard work and dedication in developing our website. Your attention to detail and patience with our many requests were greatly appreciated.The final product exceeded our expectations and we are so grateful for all of your efforts.Your professionalism and expertise truly showed through in the end result.
Robikul delivers on what he promises, great personal service and passionate about growing and improving his business too. It's been a genuine pleasure working with him. Not only has he provided the service, but helped me understand more about using LinedIn too. Thanks
Rokib is not only a pleasant person to work with but he is also extremely results-driven.I've had the pleasure of working with Rokib on multiple occasions and there hasn't been a single time where he didn't achieve the promised result.
Schedule your 30-minute free consultation.
Learn how we are helping companies like yours predictably drive qualified leads, close deals, hire top talent, and generate more revenue.
Most frequent questions and answers
Yes, We will utilize on of your linkedin account from your business to do the outreach for b2b lead generation. So that even if we stop working you will still have all the leads that we have already connected with.
B2B lead generation involves identifying potential buyers for your product or service and persuading them to make a purchase. Sales and marketing teams use various strategies to generate leads from the target audience and funnel them into the sales process. The process is critical for businesses to increase their customer base and drive revenue growth.
B2B lead generation tools are software programs that are designed to help capture leads. These tools automate the your b2b lead generation process of capturing lead data, which allows you to focus on developing campaigns instead of manually inputting lead information.
If you want to generate new business leads, you don't expect the opportunity to show up at your doorstep. B2B lead generation tactics will help you build a solid, efficient approach for B2B sales leads, to find the leads that want your product and will be glad to receive your value proposition.
With over 740 million users worldwide, LinkedIn is the most used B2B social media platform. It can warm up your cold emailing or cold calling, connect you with peers and colleagues, find you a new employee, and bring you brand-new leads. Our blog outlines the steps to set up a profile, connect with potential clients, show value, use LinkedIn contact targeting, and analyze and optimize results. We also provide six additional tips to help take your LinkedIn campaigns to the next level. Don't miss out on the opportunity to use this powerful tool for your business.
Our B2B lead generation process for B2B businesses follows a standard operating procedure (SOP) to ensure results.
Understand the Problem: We begin by understanding the problem or pain points that our potential clients are facing, which allows us to identify their specific needs and tailor our approach accordingly.

Identify Ideal Customer Profile: We then create an ideal customer profile (ICP) based on the problem we identified in step one. This helps us to target our outreach efforts to the right businesses and decision-makers.

Manual Lead Research: We conduct extensive manual lead research to find businesses that match our ICP. This includes identifying key decision-makers, such as CEOs or marketing directors, and gathering their contact information.

Writing and Sending Messages: We craft personalized messages that speak directly to the pain points of our potential clients. Our messages are designed to capture their attention and encourage them to engage with us.

Rigorous A/B Testing and Optimization: We continually test and optimize our outreach strategy to ensure maximum effectiveness. This includes testing different messaging, subject lines, and outreach methods to see what resonates best with our target audience.

Appointments with Prospects: Finally, we set up appointments with interested prospects. Our goal is to build relationships and ultimately convert these prospects into long-term clients.